Yearly Seasonal Service Suggestions
A surprising number of local drivers overlook the importance of seasonal auto maintenance.  Ideally, every automobile on the local roads should be maintained by professional automotive service experts once each season. Learn more about the service your vehicle needs no matter what time of year!
Fall Auto Service
The arrival of fall means the sun sets sooner, the winds pick up and the temperatures start to drop.  If your vehicle is not prepared for this seasonal transition, it is that much more likely to break down.  Our service center is here to do more than check the functionality of your headlights and taillights ahead of the potentially challenging winter ahead.
Bring your vehicle to our auto service center in the fall and we will prepare your tires for the months ahead.  If your tire tread is low, we will level with you so you know exactly how much risk is present when taking to the roads in the upcoming fall and winter months.  Fall auto service and maintenance also includes an analysis of your vehicle's heating system, ensuring it will keep you and your vehicle's passengers warm regardless of how cold it gets outside.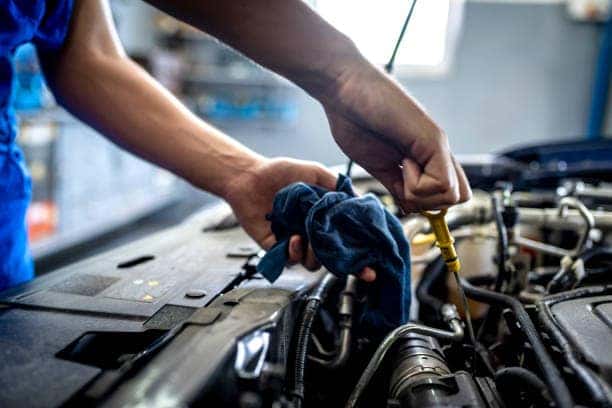 Winter Auto Service
The arrival of winter means your vehicle will be put to the test.  In particular, your vehicle's windshield wipers, heating system, tires, windows and locks are that much more likely to malfunction during the winter months.  Fret not, as our dealership's service professionals are here to replace your windshield wipers (if necessary), address issues with the windshield water pump/reservoir and even maintain the oil cooler lines.
The arrival of winter is also a golden opportunity for our service team to take a close look at your vehicle's engine components, ensuring they will function as designed throughout the cooler months ahead, providing an invaluable peace of mind.  Our service professionals will analyze your brakes and tires as well, guaranteeing you have sufficient tire tread and braking power to stop in a reasonable amount of time.
Above all, our team is here to ensure your vehicle runs as it should no matter how low the temperatures get this winter.  The decline in temperatures has the potential to affect you vehicle's battery so don't assume the battery will prove infallible across the winter ahead.  Be safe rather than sorry by bringing your automobile to our service center for seasonal maintenance.
Spring Auto Service
Spring is a bit easier on automobiles yet it still has its own unique challenges.  The winter season likely took a toll on your vehicle's tires, especially if you ventured northward into the snow, ice and slush.  Our automotive service team will determine if your vehicle's tire tread is acceptable.
We will also take a close look at the underbody of your vehicle to ensure there isn't any rust or other damage.  If you drove north and added snow tires to your car, our team will replace them with regular tires after the season's end.  Spring also provides an opportunity to analyze vehicle brakes and windshield wipers, ensuring they will function without flaw after a potentially grueling winter.
Summer Auto Maintenance is Important
The arrival of summer means it is time to head on out to the beach, visit family, hang out with friends and spend some time at local entertainment venues.  The additional miles you log while driving in the summer might cause a vehicle breakdown unless you prepare ahead of time by bringing your car, truck or SUV to our service center.  We will check, maintain and repair your air conditioning system.
Our service team replenishes fluids in preparation for the busy summer driving season.  We also take a close look at the internal cooling components that ensure the engine remains at the optimal temperature regardless of how hot it gets outside.   Once your vehicle's oil and other fluids are replenished, you'll have the confidence you need to embark on those long and demanding summer road trips.
Schedule Service at Greenway KIA Hickory Hollow
Our automotive service specialists are here to service your vehicle as the seasons change.  If your vehicle has not been serviced since the seasons last changed, reach out to us today to schedule an appointment.  You can contact our service department by dialing (407) 377-3153.  Click here to schedule service online today!