New Year Same Service
Greenway KIA Hickory Hollow in Antioch, TN, wants to help you bring in the New Year in Nashville and the entire metro area. We have state-of-the-art vehicle services to ensure your vehicle is ready to handle the winter driving season. You deserve the finest workmanship, and we have highly trained professionals to maintain your vehicle right.
Maybe your New Year's resolution is to trade in your vehicle for a brand-new one to kick the year off with a fresh new start. At Greenway KIA Hickory Hollow, our inventory is filled with the most impressive and striking models. There is one just for you, and you can come in for an exciting test drive today.
Whether your New Year's resolution is to have your vehicle serviced or buy a new or pre-owned vehicle, we are here to help. This article shares New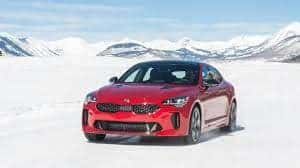 Year's service recommendations, winter driving advice, benefits of servicing your vehicle with us, and support your decision to buy a new car at Greenway KIA Hickory Hollow. We can help you ring a bright new year!
New Year Service Recommendations & Winter Driving Advice
Assessing and evaluating new year service recommendations and winter driving advice are excellent proactive measures to begin the new year. Greenway KIA Hickory Hollow is the best dealership to trust for service and maintenance.
New Year Service Recommendations
All vehicles must have winter service and maintenance to ensure safe travel on treacherous winter roadways. There are basic year-round service features like examining tires, brakes, fluids, and batteries. However, some are specifically required to deal with the cold Tennessee winters.
Here are a few winter service items, no matter where you live:
Test the defroster and wiper blades.
Inspect the brakes.
Replace air filters.
Test the heater.
Examine the hoses, belts, cables, and wires, replacing them as needed.
Check the transmission fluid.
Monitor tire air pressure often.
Test lights and flashers.
Check for recalls.
Wax the vehicle to protect it from dirt, salt, and debris damage.
Prepare a winter emergency kit.
Some of these winter service features will vary, depending on your location. Colder climate regions face winter weather conditions differently than warmer climate areas. In climates like Tennessee's, the following suggestions are extremely valuable:
Examine Your Tires
Monitoring the air pressure on your tires is critical during the winter season. However, that may not be enough to cope with the snowy, icy roadways in Tennessee.
You may need to buy special winter tires designed to keep you on the road during severe winter weather conditions. We have world-class experts to evaluate your tires for bulges, punctures, cuts, tread issues, or any other problems.
Test Your Battery
Testing your battery for its ability to function in frigid temperatures is essential. When temperatures plunge, the energy in your battery decreases significantly, and it requires more power to start your vehicle in freezing weather.
Electric and hybrid vehicles cannot escape this issue either. The cold temperatures deplete the power in their batteries, too, decreasing their driving range. It is imperative to keep an eye on the battery, charging system, and cables.
Monitor Your Fluids
System fluids like oil and antifreeze must be inspected and meet the manufacturer's specifications and winter climate conditions for your location.
Consider Ice Treatments
If you've ever gone out to your vehicle in winter and the doors were frozen shut, you may want to consider ice treatments for your doors, windows, hood, and trunk. These treatments are specially formulated to prevent sticking in freezing weather.
Now that you have reviewed New Year service recommendations, you will also want to assess and brush up on your winter driving skills and knowledge. It never hurts to be prepared.
Winter Driving Advice
Your winter driving skills are essential to ensure safe travel during the unpredictable Tennessee winter weather conditions. These tips will help you refreshen your readiness, so you don't remember them after an incident.
Tuck these reminders in your memory, so you are ready for whatever winter brings to the roadways:
Slow your speed for best braking and control on slick, wet, or snowy roadways.
Always be alert, watch your fuel levels, and stop to rest as often as needed.
Make wide turns when going around snowplows.
Never text or use any handheld device while driving.
Be aware of the surroundings and rapidly shifting weather conditions.
Pack water, snacks, a pillow, and a good book in case you get caught in a jam.
If you are stuck in bad winter weather, do not wander from your vehicle. Do put bright-colored flags on your vehicle or turn on interior lights, and do not keep the engine running with the windows up.
Benefits of Servicing Your Vehicle at Greenway KIA Hickory Hollow
Greenway KIA Hickory Hollow is the premier dealership in Antioch, Nashville, and the entire metro area. We are the leader because we offer outstanding, courteous, and professional sales and service to everyone who enters our doors.
Our highly trained certified technicians and friendly staff are committed to providing only the highest quality service and satisfaction. Our mission is to provide the very best for you.
Here are just a few benefits of servicing your vehicle with Greenway KIA Hickory Hollow:
Our professional service technicians are certified and trained by our manufacturers.
We only use the most innovative state-of-the-art equipment.
Service at our dealership is guaranteed.
We monitor and maintain all recall issues.
We keep a service history to screen what your vehicle needs and when it needs it.
We honor manufacturer warranties.
The Ultimate New Year's Resolution to Buy a New Vehicle
A new vehicle for a new year is an excellent resolution! At Greenway KIA Hickory Hollow, we make it easy for it to come true! What an exciting fresh start for a new year!
Our incredible sales staff can give you a tour of our vast inventory of new and pre-owned cars, SUVs, and trucks with sensational discounts just for you. We have the top makes and models to choose from, so we have the perfect fit for your style and lifestyle.
We Can Help You Achieve Your New Year's Resolution
Greenway KIA Hickory Hollow can help you achieve your New Year's resolution whether you want to service your current vehicle, take an exhilarating test drive, or buy your dream car. We're here for you.
Remember, early proactive measures for the Tennessee winter weather begin right here. Don't wait. Make your service appointment with the finest service technicians in the region. We offer transparent and honest work using the best high-tech equipment for your vehicle.
Don't let frigid winter weather sneak up on you. Call our service department today or contact us today with our convenient online appointment request form to schedule an appointment for your vehicle's winter maintenance visit.