Importance of Servicing Your Tires in Winter
The winter months can be harsh depending on where you live. Even in warmer climates, cooler winter months can affect tire pressure and regularly checking them can help keep the pressure correct. Costly repairs can be avoided through early detection of problems with consistent inspections. Some routine tire services before and during winter no matter where you live include:
Inspection – Regular inspections are a way to catch problems before they get worse. Damaged and worn tires can be replaced, which can help you avoid a flat tire.
Inflation – Keeping tires properly inflated is crucial to ensuring your tires perform their best during winter. When tires are under inflated, they are more prone to damage and wear. It is also dangerous to drive with tires that are under inflated.
Rotation and alignment – Tire rotation and alignments are necessary to keep your vehicle steering and driving smoothly. Steering can be erratic and other problems can happen from neglecting this service. Rotation, balancing, and alignment are critical steps of routine tire care.
Replacement – Tires that are old and showing signs or worn tread likely need to be replaced. Tire sales representatives can help you choose the right tires for your needs.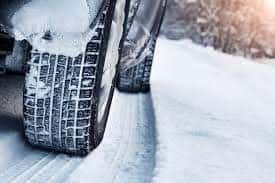 Our team at Greenway Kia of Hickory Hollow has years of collected experience helping our customers with high quality name brand tires for winter, and all seasons in between. We also offer full tire services including routine inspections and inflating tires to the correct pressure. Maintaining your tires with routine maintenance, replacement, and check ups will keep you safely on the road during winter.
Tire Styles and Types
Winter tires – These tires are made specifically for extreme winter conditions below 40 degrees Fahrenheit. They are designed with rubber compounds shown to be effective in snow, ice, and rain. The tread on these kinds of tires is intricate and made for traction. There are varieties of winter tires that include studded and studless. Winter tires are less effective and not recommended in summer when temperatures are hot.
All season – All season tires perform best in mild climates with moderate winter and summer weather. They are made with a mixture of rubber compounds that make them suitable for moderate weather and road conditions. This is a popular choice for many people for day to day driving over varied terrain.
Summer – As the name implies, summer tires are most effective when conditions are warm and dry. The tread pattern is designed for hot roads, rain, and traction. The stickier rubber compounds work well at temperatures above 40 degrees.
There are other types of tires that include terrain and high performance, but during the winter months, winter specific tires are generally the focus for most consumers. Other winter tire options include adding snow chains externally for extreme ice and inclines, as well as studded tires for improved traction and grip.
Winter Effects on Tires
Underinflation – This is one of the main effects on tires during the winter season. Tires tend to lose pressure the colder the weather is. Consistent tire pressure checks will ensure that tire pressure is inflated to the correct PSI.
Incorrect tire type – While more southern states typically do not have extreme cold and snow in winter like northern climates, it is still worthwhile to consider changing tires seasonally. In areas that experience heavy rain, extreme heat of summer, or other variable weather conditions, different styles of tires, like all-season, may be useful.
Worn or damaged tires – Tires that are damaged or simply old and in need of replacement can be especially dangerous in winter. Potential blow outs can be hazardous on icy roads. Faulty tires can contribute to increased repair costs and risk of injury. Replacing tires before they reach a degraded state will ensure you are driving safely and it can save you money in repair costs.
Expert Kia Tire Services
Don't let winter catch you off guard, contact us at Greenway Kia of Hickory Hollow to schedule a tire service before or during the chilly winter months. Our team of professional automotive technicians can inspect your tires and recommend effective services to keep your tires performing at their best. We look forward to seeing you at Greenway Kia.