A Glance at the NEW 2023 Sportage
The forthcoming 2023 Kia Sportage has undergone a full redesign. Its award-winning predecessors were already impressive, and the newest version promises to further build on that success.
New Front and Rear Exterior Aesthetic
The 2023 Kia Sportages that are available in Antioch, Tennessee look slightly different than previous years' models. Both the front and back ends have been given a facelift that makes the crossover appear even bolder and sleeker than before.
Larger (and Higher) Dimensions
You may not notice that the 2023 Kia Sportage is also 7.1 inches longer when looking at it from the outside. You'll appreciate the increased length, width and height when seated in the cabin, though.
The back seat boasts 43.1 inches of legroom that comfortably accommodates adults, and 39.6 cubic feet of cargo room beats all other models in the Sportage's class.
When equipped with all-wheel drive, the 2023 Sportage also gains an extra 1.5 inches of ground clearance. An inch and a half might not seem like much, but it can make a big difference when you're off-road or in snow.
Refreshed Interior With Impressive Features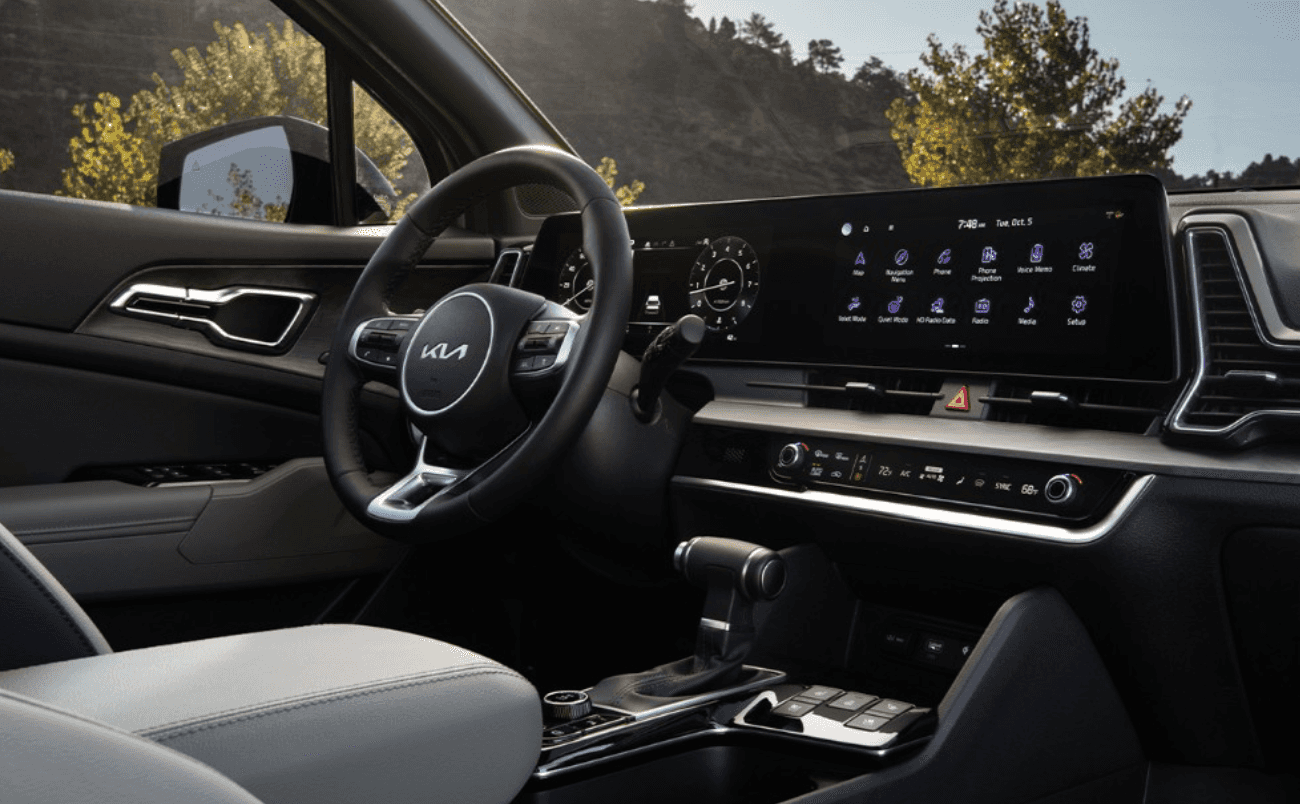 In a refresh of the interior, Kia has paid special attention to features that are often overlooked but make a huge difference. The dashboard layout, air vents, center console, shifter and even cupholders have been slightly reconfigured for more convenient use.
Part of the interior refresh includes the addition of a touchscreen for audio and climate controls. The touchscreen can be further upgraded to a pair of cured 12.3-inch displays, and available Wi-Fi connectivity further extends the usefulness of this touchscreen.
Slightly Renewed Engines
Specifics about engine power and efficiency aren't released yet, but some minor improvements are expected. The base 2.5-liter engine should have a little more power that adds some extra zip. A hybrid engine should be coming soon, too.
Some engines will be paired with an all-new 8-speed transmission. Such a high number of gears should generate high fuel efficiency, which will be confirmed when EPA estimates are published.
Many Camera Angels
An available 360-degree camera is helpful both in downtown and out-of-town situations. Back up a boat or camper with confidence, and parallel park in Nashville or Memphis without drawing attention.
New Trims
A trio of trims are being added to the Nissan Sportage's lineup. The X-Line, X-Pro and X-Pro Prestige replace the Nightfall trim, offering more options for drivers who like the Nightfall's unique look.
Adjusted MSRPs
While MSRP adjustments are to be expected each year, the ones that Nissan is making are surprising. The automaker is actually lowering the MSRPs for the 2023 Sportage EX and 2023 Sportage SX trims, and this is before any manufacturer or dealer discounts. The official MSRPs aren't published yet, but these two will decrease slightly.
Get a Deal on the 2023 Kia Sportage
When the 2023 Kia Sportage becomes available, come and see it at Greenway Kia of Hickory Hollow. We have a large selection of Kia Sportages for sale at our 5406 Target Dr., Antioch, TN 37013 location, and we'll get the 2023 models as soon as they ship from the factory.